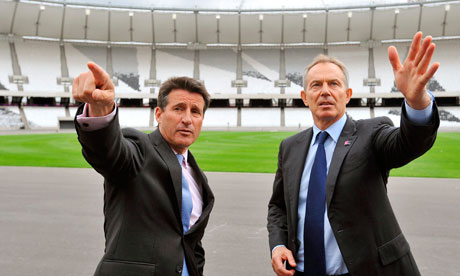 I was always an Ovett man. I disliked Mr Establishment Coe, especially after he came out of the closet and declared himself a Thatcherite Conservative. I was opposed to the Olympics too. A dreadful waste of money in my book, and that was before austerity grabbed the nation by the bollocks and squeezed.
But I was wrong, and Coe was so so so right. He has been truly superb, stepping into the spotlight when things threatened to go wrong - as with the security cock up and the empty seats controversy - but otherwise stepping back into the shadows and allowing the athletes to bask in all the glory. All that talk of who should carry the torch for the opening ceremony and there should really have been one candidate only, the man who had the vision to bring the Olympic Games to London and Great Britain: Sebastian Coe.
What a triumph for the nation and for Coe personally. He has been dignity personified throughout and the Games have done the nation proud!
And there's one other person who has been forgotten and who should really have been invited to the Opening and Closing ceremonies. I detest the man because I felt betrayed by him when we invaded Iraq and launched an illegal war, justified by lies, but Blair, like Coe, had the vision to commit to the bid in the first place, something the Tories would never have done!
So will Osborne now sit up and take note? Was the Olympics a triumph because of penny pinching austerity or did it inspire a nation by celebrating in glorious excess? Thatcher wasn't for turning; if Osborne doesn't learn from the last fortnight and what has happened in Greece, then God help us all!