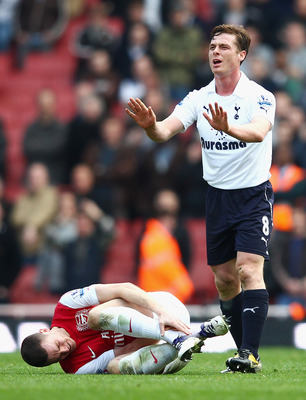 Well welcome to the Scotty Parker show! England captain for the first time and we saw exactly why the guy is actually a liability at international level when you come up against the better teams. First half we was good, very good when he sat and sat and sat. There was one lovely last ditch tackle and two wonderful blocks; and the one yard Scotty passes sideways and backwards were a joy to behold. The trouble is, Modric wasn't available to offer the forward impetus.
Second half, we saw the other side of Scotty when the armband went to his head and he suddenly thought he was back in Claret and Blue. Fatal! As soon as Scotty ranges forward, you know you are in trouble. Just before Holland scored, Scotty lost the ball and the Dutch sprang forward. The shot from Huntelaar went narrowly wide but the writing was on the wall. Did Scotty learn? Did Scotty drop back into position to sit and hold? By now the adrenaline was pumping. Cue the Arjen Robben show. Watch that first Dutch goal, with Robben running at an unprotected England back four and Scotty trailing in his wake, out of position and out of the game. Tell me, when was De Jong ever out of position? When were the Dutch centre backs left exposed like that?
And did Scotty learn? Well he dropped a little deeper, dwelt on the ball, in typical fashion, lost the ball and Holland nearly had their third.
Of course, the Parker acolytes won't want to see this. Nor will they want to see the terrible Parker pass that could have led to the breakdown of the attack that resulted in Young scoring our second goal - with Jones showing much more vision and ability on the ball than Parker has shown all season in a Tottenham shirt, opening up the Dutch in a way that Parker can only dream of. Nor will they want to remember Parker delaying and over hitting his pass, so depriving Sturridge of an opportunity.
Parker's blocks will be remembered. And Parker picking himself up after being poleaxed by De Jong and Kuyt will be remembered too. Because that's what Scotty does, he competes. But at the highest level, competing isn't enough, at the highest level you need class and control and a footballing brain, and Scotty is then found wanting!