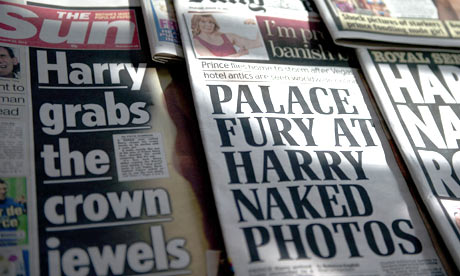 Third in line for the throne and he is daft enough to be photographed naked? I have no problem with what he was doing personally, but if a "member" of the Royal Family is paraded like this, why the Hell shouldn't The Sun publish the pictures? If this isn't news, I don't know what is!
Keeping things in context though, what's worse, Harry's naked frolic or Prince Charles, whilst married to Diana, telling Camilla he would like to be her tampon? Now that was a bloody disgrace!

Mind you, we should all thank God that the 'Arry concerned wasn't Redknapp. Now that would make you choke on your bran flakes!