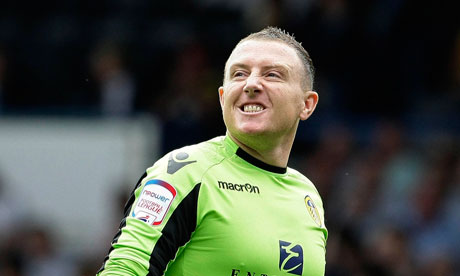 Joy. Not only does England's Number 666 Rob Green have a howler, but Paddy Kenny can't resist the temptation to gloat and, in typical Leeds fashion, retaliates with a stream of abusive text messages sent to Fernandes and Technical Director Mike Rigg!
Why am I not surprised? Well look at the vast majority of the comments left by Leeds supporters on here. Sure Kenny stopped short of wishing cancer on the children of Fernandes and Rigg, and has not threatened to kill them, but that apart, he has proved himself to be "at one" with the brainless abusive thugs who make up too large a percentage of the Leeds fanbase.
Now I'm not tarring all Leeds fans with the same brush. The majority are, of course, decent human beings, but they must shudder in horror when they read what their "fellow fans" write on the net and when they see the droves of brainless louts dragging their foreheads and knuckles on the pavement on their way to Elland Road.
Kenny should now have the book thrown at him - not that there's much chance of him catching it! He has set an appalling example and behaved like a stupid lout. How dare he call QPR a "tin pot club" when the Rs are in the Prem whilst he is playing in the Championship?
It is all sour grapes. And why is he bitter? Because he knows he has been dumped. So which is the tin pot club exactly, the one that can afford to discard him or the one that, through necessity, has been forced to buy a cut price keeper deemed surplus to requirements by the club that missed relegation last season by one place and one point?
Mind you, £900,000 for Kenny? Leeds could have had Jussi for nothing. But then Jussi wanted to play for a big club in the Prem didn't he?