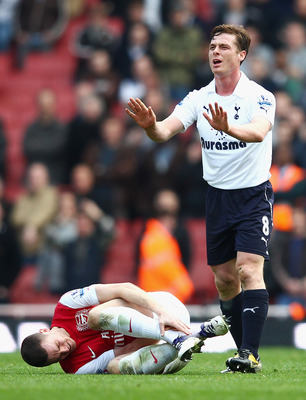 You have to laugh. When Capello flounced out, 'Arry was the dog's bollocks. Tottenham had as good as booked a Champions League place and the more optimistic Cockyfools were thinking they might actually challenge for the title. Arsenal were so far adrift that they were no longer a consideration and Chelsea were a spent force - with £50m spent on the misfiring Torres.
Meanwhile, Scotty Parker was second only to Redknapp as national hero in waiting. The best holding midfielder in the country, Parker was a must for the national side's armbard - even though he wasn't captain at West Ham and isn't Tottenham's skipper either.
How things have changed! I have insisted all along that Parker only looked good because he was in a successful team. With Bale, Modric, Van der Vaart and Adebayoor buzzing, any plank could look half decent holding. And Parker isn't a plank, he's a decent enough holding midfielder. The trouble is, decent isn't good enough when you come up against the best. So Parker was exposed by Arsenal, exposed by Holland, and was even found wanting against Everton when paired with another mediocre centre midfielder, Sandro. It was like the Parker Behrami combination at West Ham - graft and commitment but no guile or creativity! How many goals has Scotty scored in a Spurs shirt? None. How many assists? One so far!
And now Arsenal have closed up on Tottenham's shoulder, and are just one point behind. And the momentum is with the Gunners. Suddenly Modric and Bale might be thinking about moving on to find Champions League football, especially with Chelsea finding some form again.
Poor 'Arry, he may be seeing his Champions League dream slip away as quickly as his chances of managing England. And Scotty's looking bemused, wondering how and why it has all gone so wrong. The answer, of course, is the injury to Van der Vaart. He is the real genius in the Tottenham team, closely followed by Modric and Bale; Scotty has simply taken a ride on their coat tails!