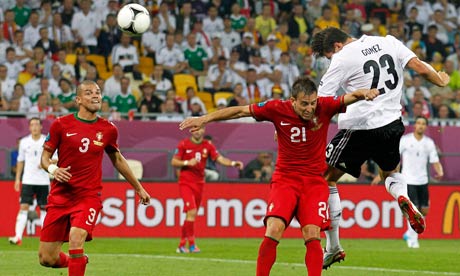 What is it with the Portuguese? Why are they so damn cowardly? With Ronaldo, Muereles and Nani in the team, they should be playing opponents off the park, forcing them on to the back foot and attacking them relentless. Instead, they set up negatively and contain, hoping to score on the break or from a set piece. I'm not one to cheer the Germans on, but when I've laid 0-0 on Betfair, the last thing I want to see is Portugal playing to frustrate.
Look what happened when, a goal behind, the shackles were belatedly removed. Suddenly the Germans were stretched and Portugal could well have equalised. Had they adopted a more expansive attitude from the off, I fancy Portugal might have won the game - and I wouldn't have been fretting on having to pay out at odds of 11-1 until the 70th minute! Denmark had little option other than to contain against a vastly superior Dutch team, but they showed more attacking ambition than Portugal, even when a goal ahead.
It's been a good tournament so far and England haven't even featured. Woy will probably use similar tactics to Portugal and Denmark and, as we've seen, good defensive organisation can frustrate superior opponents. There's a good chance now that Holland could exit the tournament at the group stage and, Russia apart, none of the teams I have seen so far have terrified me.
That said, the speed of passing has been impressive, as had the willingness of players to run with the ball. Young may be our ace in the pack.