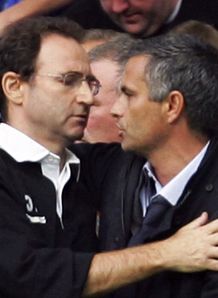 Yesterday was a nightmare. With optimism pumping on the back of a string of promising performances, we all came back to earth with a bump, and earth is rock bottom in the Premiership. Until yesterday we kidded ourselves that it was a false position. Until yesterday we pointed to Piquionne, Obinna and Barerra. Until yesterday we put our position down to a run of difficult fixtures. Until yesterday we said there must be three weaker teams in the division. Until yesterday a couple of wins would see us climb the table.
Who was it that wrote that song, "Yesterday, all our troubles seemed so far away?"
Before yesterday, there was talk of Hughton losing his job. He will probably still be shown the door before the end of the year and that makes it vital that we make our move now.
But hang on, I am an apologist for Grant. I have argued that we should back him. And I still rate the guy, far more than I rate Zola. But there is somebody available at the moment, somebody with a tasty track record, somebody who would get into the faces of our lazy, over paid primadonnas like a swarm of hornets at a Buckingham Palace garden party. Martin O'Neill is out of work!
He will be in charge of Newcastle before the end of the season if we don't make our move now. He may tell us to take a running jump anyway, preferring to wait for the Newcastle job. But, if there is any chance whatsoever of landing him, we should try. Under O'Neill we would not go down.
But would Sullivan and O'Neill be able to work together? It would certainly be entertaining for as long as it lasted!