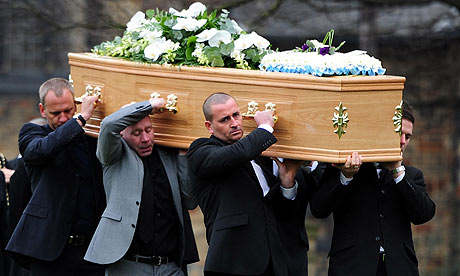 Remember back to when Glenn Hoddle left Southampton to become the Tottenham manager, how did he upset the Saints fans? They accepted his return to his former club - it wasn't like Redknapp's defection from Pompey to Southampton after all; what infuriated them was the way he plundered a certain Dean Richards, returning to his former employers to sign the uncapped centre back.
The deal was controversial for both sets of fans. The Southampton fans felt betrayed by Hoddle, and the Tottenham fans queried Glenn's judgement. £8.1 million for a centre back who hadn't even been capped by England? Too much surely!
The funeral of Dean Richards was held yesterday in Bradford. He was just 36 years old when he died. Robbie Keane was there. So were James Beattie, Steve Bull and Chris Kamara. But where was Hoddle, the man who bought him twice, for Southampton and Tottenham? Well a mate of mine, a Tottenham fan as it happens, bumped into him in the lobby of the Holiday Inn in Guildford!
Now, there's respect from God's Great Disciple of 5-3-2! Mind you, Hoddle was on his mobile when spotted. Perhaps he was ringing Eileen Drewery on behalf of Dean, asking her about her Lazarus Programme!