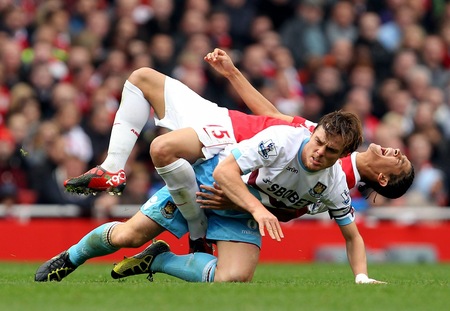 For all his excellent reviews, question marks still hang over Scott Parker. Tottenham fans are raving about the man they never really wanted, just like they are raving over a manager they were loath to see appointed, but yesterday's booking showed why the former "Mr West Ham" may do to England's European Championship chances what Green did to our World Cup bid.
Did anybody else notice the foul that bought Parker his yellow card?
Why? Why would a player do that? Just outside the box, full view of the referee, Scotty elected to go through the back of a Newcastle player, conceding a ridiculous free kick in the process. If this was a one off, fair enough, but time and again he did the self same thing in Claret & Blue, giving the opposition wonderful opportunities to score.
Parker was lucky this time because Friedel pulled off a good save from the free kick, but top internationals will find the top corner, out of reach of the keeper. For some reason, this is in Parker's game and until somebody sits him down and tells him to cut it out, he will always be an accident waiting to happen. And at international level, one accident is all it takes, as Green can confirm.
Goal and assist count so far for Scotty in Tottenham colours? One assist, no goals. Sadly, England don't have Van der Vaart, Bale, and Modric to compliment Parker in midfield!