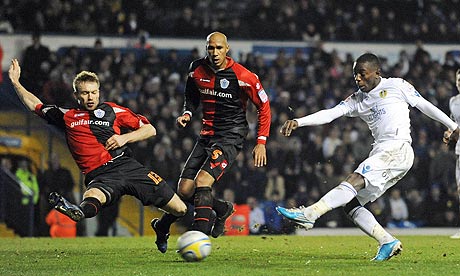 Makes sense. You bring in a player with proven ability in the N Power - 18 goals last season aint bad is it? - and ship out Mexican Taco Bell star Pablo Barerra. Or is the plan to play with two wide men, banging in crosses for Carlton to head over the bar?
There are reports that we have bid for the Leeds man who is out of contract next summer. The 23 year old Gradel sounds like a better bet to me than Mucky-Smith who, at 27, does not have age on his side. We need some good news soon so let's hope there is some substance to this rumour.
Mind you, if we do sign him, he looks as if he will need a few of Sam Pot's henchmen to protect him. The boy is match thin isn't he?