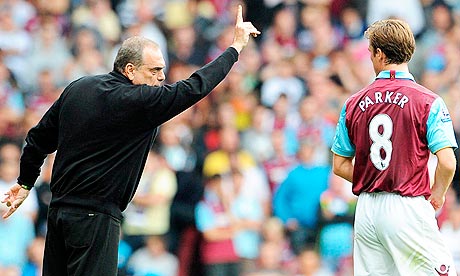 It makes sense when you think about it. I loathe the idea of Barton in Claret & Blue but at £1.5m up front and future bail payments, he does look a bargain. He will certainly add some bite to the midfield. Sidwell used to score goals from midfield so he would seem a good replacement for Parker, whilst O'Hara is combative and can ping a pass.
Let's assume Behrami goes for £5m, we can have both Sidwell and Barton with £2m left over. O'Hara arrives, maybe on loan, as part of the Parker deal and that is centre midfield sorted. And I don't think we would be any weaker on the pitch and, if we get £6m for Parker, we still have £8m to play with.
There is a little nagging worry though. Barton and O'Hara have both played for relegated teams. (I think Sidwell was at Chelsea the season Reading went down but I'm not sure!).
We still desperately need a left back, another right back, a pacey left winger and a striker, however. And if Upson is sold, an experienced centre back. That means more pack shuffling. Cole has to go. Let's be realistic and say we get £8m for him, that gives the Davids £16m to "invest". You can bet your life that they are scanning the market looking for "bargain" Mido and Ilan style misfits but, as we have now seen, you rarely pick up players of Premiership quality in this way.
The advantage of Sidwell and Barton is that both have Championship experience and would be very tasty indeed in the lower division. Their goals from midfield would fire us towards promotion and take the pressure off the youngsters.
Of course, all this assumes we have a free run at these players and other clubs might have something to say about that. But then again, who in their right mind would touch Barton with his discipline problems and O'Hara with his recent injury history? Both have "Made for West Ham" stamped all over them!