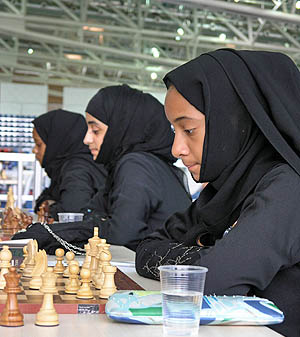 The time is now surely ripe for the break up of the corrupt oligarchy that is FIFA. For too long, this Medieval style organisation has preached to the world its brand of hocus-pocus-quasi-religious-sanctimonious-claptrap about the game whilst, like the Roman Popes, hiding corruption, abuse and exploitation and denying progress in the name of the divine and irrefutable Dead Sea texts passed from one FIFA Pontiff to the next: "And the Lord sayeth that technology in all forms is the work of Satan and is to be shunned."
But in awarding the 2022 World Cup to Qatar, FIFA have surely opened the door to rebellion. What the Hell is going on? This is a country with an indigenous population of just 1,300,000, approximately the size of Birmingham! Even in a football mad country like England, Birmingham struggles to sustain 4 football teams - Birmingham, Villa, West Brom and Walsall, yet Qatar will be building seven prefab stadia to host the greatest football tournament in the world, before exporting them to Third World associations, whose votes they secured when concocting the cunning plan!
Imagine the furore if the World Cup was given to Birmingham! But Birmingham does at least have a footballing history, a footballing heritage. West Brom have won the FA Cup, Birmingham the League Cup, Villa any number of trophies, including the old European Cup. But tell me, what role have Qatar or any club side from Qatar played in world football? Absolutely none, apart from winning the Arab equivalent of the Birmingham and Midshires Cup!
And then look at the human rights issue in Qatar. Homosexuality is a crime punishable with a 5 to 10 year prison sentence and it is still possible for a sentence of stoning to death to be passed for homosexual activities. So what are gay players and gay supporters supposed to do in 2022? Their conscience should dictate that they boycott the tournament or that they openly challenge the Qatar authorities by declaring their sexuality and arriving with a male WAB in tow, announcing on touchdown that between games they intend to engage in homosexual activities whilst official guests of the Qatar authorities. What would FIFA's position be if Qatar declared a selected player "unwelcome" I wonder?
Interestingly, it is illegal to proselytize and, technically, it is still a capital offence to convert from Islam. What would happen if the Qatar authorities decided to ban a Kaka, for instance, for wearing Christian insignia, making the sign of the Cross and deliberately proselytizing in pre match interviews.
Then there is the issue of women's rights. Men in Qatar may prevent female relatives from leaving the country by providing their names to immigration officers at ports of departure. The legal system allows leniency for a man found guilty of committing a "crime of honour," or a violent assault against a woman for perceived immodesty or defiant behaviour. Shari'a provides no punishment for spousal rape. The Government prohibits independent women's rights organizations. Although women legally are able to travel abroad alone, tradition and social pressures caused most to travel with male escorts. Muslim women cannot legally marry non-Muslims.
Meanwhile no English based player should travel to the country if they are members of the PFA, because trade unions are ILLEGAL in Qatar. Since 1995 the country has been suspended from the U.S. Overseas Private Investment Corporation insurance programs because of the Government's lack of compliance with internationally recognized worker rights standards.
Tell me, what the Hell is going on? FIFA talk about the family of football, but the "family" apparently is happy to exclude women, homosexuals and union members when it suits to do so.
MPs should immediately commence campaigning for a boycott of the Qatar World Cup on the grounds of breach of basic Human Rights. Campaigning should spread across Europe. By taking the tournament to Qatar, FIFA are endorsing the regime and that is unacceptable. FIFA talk about a legacy. Well Human Rights should be the basic legacy, the minimum requirement before a country is allowed to host a tournament. The Western democracies have a moral duty to make a stand by setting up an alternative World Cup and inviting the rest of the world to make the choice - a World Cup in Europe (and we have time to consider the merits of the Spanish, Benelux and English bids) or a World Cup in Qatar. You wouldn't have to be a world chess champion to make that decision, would you?