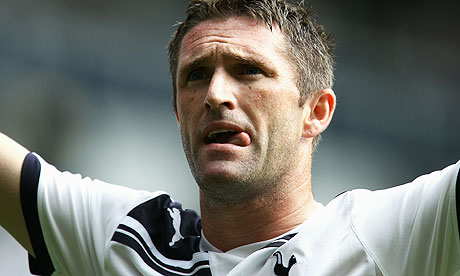 It's taken 6 months longer than I predicted, and it seems as if 'Arry no longer fancies Parker, but it looks increasingly likely that Robbie Keane is heading our way for better or for worse. One piece of the August transfer jigsaw is, at last, falling into place.
Redknapp has wanted Keane out of the door ever since that unauthorised Dublin jaunt and Parker was the target in August, with Keane the perfect bait. We needed him, Tottenham didn't want him, and Babel was lined up as a replacement for the Irishman. They even had a helicopter booked. Explaining the sale of Parker was going to be tricky for Sullivan, but that contract extension had remained unsigned so there was a convenient excuse.
But then Levy caught wind of the Van der Vaart deal. £8m for a player of his quality? That was the deal of the decade! And 'Arry's nose twitched. He could smell a bargain. The thrill of the three way wheeler deal was certainly tempting, the coup of moving one out and two in was positively arousing, but the kudos of landing the big fish Dutchman was too good to miss. 'Arry buying a player from Real Madrid! It was just too damn wonderful to turn down! "I'm not a facking wheeler dealer, I'm a facking football manager!"
Suddenly Babel's helicopter was grounded. Suddenly Parker was unwanted and had to swallow his pride and sign that new contract. Suddenly 'Arry was stuck with that pain in the arse Keano.
No matter sell him in January! The trouble is, Keane now dug his heels in. "Feck me about in August and I'll feck you over in the New Year! Birmingham? You can stick Birmingham and their £8million bid up your fecking arse, I'm not moving out of London!"
So step in West Ham with a derisory £4m bid as a take it or leave it offer.
It all makes perfect sense if you think about it.