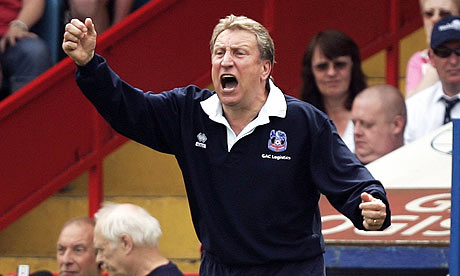 Bristling with rightful indignation, Neil The Gob Warnock won a crucial preliminary bout with cruiser weight Armand "Dangerous" Traore on route to his title showdown with Joey "The Cnut" Barton yesterday. Enraged by Traore's dismissal for a "stupid" foul, Warnock promised to fine his young defender the "maximum amount".
The world now sits on the edge of its ringside seat, eagerly awaiting Barton's first dismissal and the Warnock response. Imagine for a moment Barton marching from the pitch to be confronted on the touchline by Warnock's contorted, insult yelling mush. Picture the twitch of the biceps. Picture the closing of the fist and the pulling back of the arm. Picture the moment of release as Warnock yells into Barton's face that he is a stupid fcuking cnut. And picture the impact of fist and gob, Warnock's teeth flying out to left and right, his lip exploding like an orange hit by a high velocity bullet!
Roll up, roll up and buy your ringside seats! For one night only! It's almost worth buying a QPR season ticket to be able to say you were there when Warnock finally got his comeuppence!