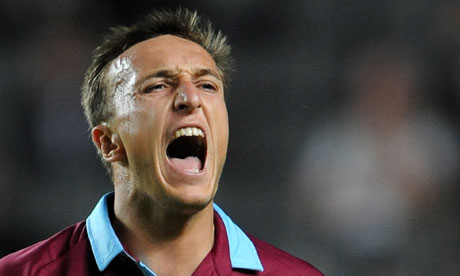 Noble is a figure who, along with Carlton Cole, divides West Ham fans more than any other. 98% of the Claret and Blue Klan were Parker acolytes, 70% still claim Green is an international keeper and 100% will now accept that Ilunga should be put out of our misery. But Noble is another matter.
How good or useless is the guy. Some are convinced that Noble is hopeless. He is too slow. He loses possession too often. He gives away too many free kicks. He has stamina problems and can't see out a game.
Others claim Parker and Noble were a bad fit, clashing rather than complimenting when paired together. Noble's fans will point to the fact that he came through the Academy, that he captained the England U21s and will highlight his passing range. Parker got the credit for our comeback at West Brom last season but it was Noble who had a hand in all three goals.
Noble is undoubtedly slow, that's why Pardew remodeled him from a tricky wide player to a center midfielder. And Noble carries too much upper body muscle. He found the gym in his early twenties and bulked up like a rugby player - and that, in my opinion, was a mistake. And his goals have dried up.
Allardyce has been using him as the holding midfielder but Diop has now arrived and we suddenly have an abundance of midfielders. Will Noble find a place in the starting line up? He must be sweating on the possibility of being dropped.
I have defended Noble against his harshest critics and hope that he may now prosper following the departure of Parker but this is a huge season for him. If he loses his place early doors, the future for Noble looks bleak. It is time for him to impose himself, to stamp his imprint on the team. There has been talk of potential for too long, Noble must now deliver or go elsewhere.