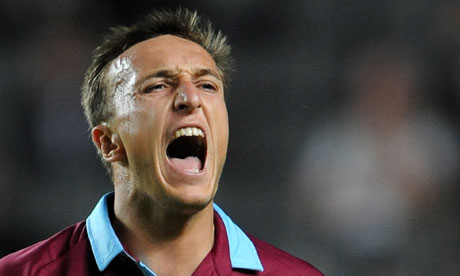 How on earth is the guy in the team? Didn't Allardyce see that foul which saw Chelsea hit the base of the post from the subsequent free kick? What about that back heel that went wrong, allowing Chelsea to break and nearly score? Where was Noble when Chelsea got their goal exactly? Pathetic!
Of course, he had the highest pass completion rate of any player in a West Ham shirt. Again. And he covered more miles than any other player on the pitch. Again. And he played an absolutely brilliant pass to release Jarvis, who really should have netted. And it was Noble's clever freekick down the line that released Jarvis for the cross that led to Nolan's wrongly disallowed goal, with Chelsea at sixes and sevens because of the speed of Noble's thought.
But he made two errors in the game! Three because he passed the ball directly into touch on one occasion too! He must be dropped. He is a liability! Chelsea's team cost £500m and West Ham beat them 3-1 with a guy who cost us nothing in the playmaking role, helping us to boss the midfield in the second half; but frankly that's not good enough! He is only in the team for PR reasons. His passing and tackling stats only compare with Gerrard's because Noble is trying to hoodwink the fans into thinking he is a key man in West Ham's midfield.
We are only eighth in the Prem. Eighth! That's pathetic! Who knows where we might be if Noble wasn't in the team! 22 points at the beginning of December? Pathetic! How many might we have if Noble wasn't in the side? Four points shy of a Champions League place? Pathetic! Without Noble, we might be in line to play Barcelona next season!
Come on Allardyce, wake up! Drop Noble now before it is too late! We can't afford to pick players on the basis of their PR work and as a hard nosed stats man you really should know better! Of course Grant was duped by Noble, he was an idiot. Of course Zola was duped, he was an idiot too. And of course Curbishley was duped before them because he was an idiot as well. But Big Sam, we are amazed that you love this guy so much. You do know he never played for Bolton, don't you?