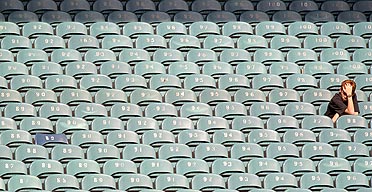 People seem to be a little bit confused here. In all the excitement of winning the bid to RENT the Olympic Stadium, there has been this absurd assumption that it will somehow guarantee success. Top players will want to join to join us apparently because of the joy of playing in front of 60,000 Happy Hammers every week.
That, of course, is nonsense. Look at Sheffield Wednesday and Blackpool. Who has the bigger stadium, but who currently languishes in the third tier of English football exactly? I know that Hillsborough is a dump, but there is the blithe assumption that we will be able to fill and maintain the new stadium, ensuring that it will always look pristine, irrespective of what happens to us on the pitch.
Arsenal is a case in point, and I'm talking talking about the Emirates - although the trophies have dried up since the move because money has not been available to strengthen the team. Look what happened when they tried playing Champions League games at Wembley. As with our move, the accountants were able to prove that it was the right thing to do, but did Arsenal win the Champions League? Results went backwards if I remember correctly and the alien atmosphere was blamed. Did revenues increase? No, because Arsenal did not progress as far in the competition as they would have done had they played at Highbury. Wembley, of course, did not and does not have a running track!
I have asked the question before and will ask the question again, where are 60,000 fans suddenly going to appear from? The stock answer seems to be that we will reduce prices, but if we have to do that to fill a larger stadium, what's the point of the bigger capacity? It's like taking a new job because it pays more, but accepting a more expensive commute in order to do it.
The next argument seems to be that we are only struggling to fill Upton Park because we are struggling on the pitch. The logic goes like this: we move to the new stadium and we fill it because we are successful on the pitch. Anybody see the hole in this argument? Why will moving to a new stadium suddenly turn us into a successful team? If that's the case, why don't we win when we play at Old Trafford and the Emirates?
In the old days, we turned Upton Park into a fortress. It was the claustrophobic, intense, intimate nature of the place that won us points. Like it wins points for Stoke City. How difficult will it be for opposition teams if, as some of us fear, the new stadium is a soul less bowl, at best two thirds full? How will the players be lifted by a "Claret and Blue Army" that they hear like an echo of an earlier era, how will they be inspired by "Bubbles" that drift over time and space before dying somewhere over a running track? And why, as a player, would you want to play for a club where home games are played in a vacuum rather than a pressure cooker?
Every argument put forward by those in favour of the stadium is contingent upon us succeeding on the pitch. But if money is being spent on the stadium, it is not being invested in the team. Every pound spent on stadium conversion is a pound not spent on team conversion. Arsenal started with a great team but that great team stopped winning things. We start with a shit team so shouldn't people be a little worried here?
But there must be a logic behind the move, mustn't there? Sullivan and Gold would not be doing this to cut their own throats would they? Well, to answer that one, you need to look closely at how the new stadium is being financed with other people's money and what happens to the revenue from the sale of the Boleyn. The debt stays with the club, what happens to the revenue?
Under the Curbishley era, I talked a lot about what West Ham stood for, about how I would prefer to be in the bottom half of the table playing the West Ham way rather than in the top half playing kick and run. I have consistently tried to defend the values, heritage and soul of West Ham. We belong at the Boleyn, it is our home. We are not a Manchester United and do not need a Theatre of Dreams and having the theatre does not guarantee the dreams .
Many, many years ago, I saw Genesis in the Bristol Hippodrome. It was a magical experience, so intense, so intimate, so exciting - it felt like you really could reach out and touch Gabriel as he sang the final line of The Musical Box. Fifteen years or so later, I saw Prince at Earls Court. Except I didn't. I saw this speck on stage and watched a big screen throughout. I stopped going to concerts after that.