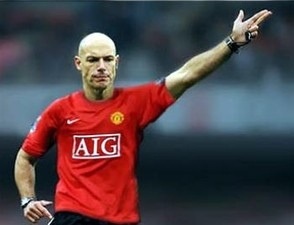 Oh dear God, Clattenbung will be furious! He normally corners the market in these sorts of decisions but Webb came up with an absolute corker today for Bolton's opener, awarding a free kick for a back pass that was arguably unintentional and then allowing Bolton to take it before the Stoke keeper was able to retreat to his line, never mind the defence to form a wall.
Webb might as well have side footed the ball into the net himself!
And to think this guy was allowed to cock up a World Cup Final! He was probably confused, believing because he was in the North East that the home team must be Manchester United!