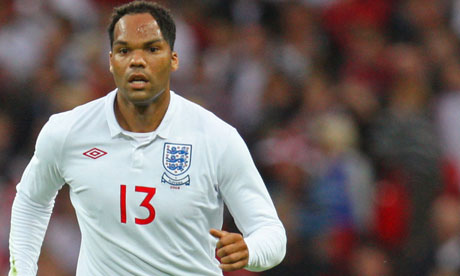 He got the Man of the Match and, to be fair to Parker, this game showcased his talents as an anchor midfielder superbly, but he so so nearly lost us the game when, in typical Scotty fashion, he tried to turn a circle in his own half and lost possession. Spain sprung and only a superb last ditch intervention from Jagielka prevented a killer pass from opening us up like a tin of sardines.
That apart, Parker covered expertly and, as usual, was 100% commitment. But man of the match? Not by a country mile for me. Lescott and Jagielka were the true stars, holding the defensive line brilliantly and timing interventions on the edge of the box expertly. Parker gave away a free kick in a dangerous position. So did Barry. But did Jagielka or Kryton Lescott? I don't think so.
It would be hard to split them in my opinion, but Lescott shaded it for me. There were three weak headers, but those apart, he was huge. Time and again the ball found Kryton as Spain played the ball into dangerous areas, because he read the game, dare I say it, like Bobby Moore. Lescott's and Jagielka's concentration were nothing short of fantastic.
1-0 against the World Champions with the winner from Academy Product and England Captain Frank Lampard. West Ham fans can feel proud!