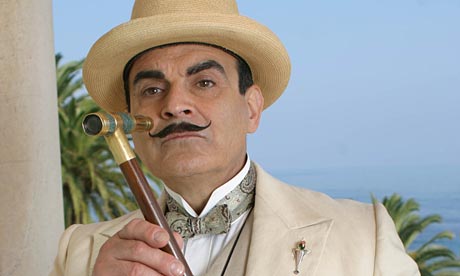 Only at West Ham! As we speak, Sullivan and Gold are requesting the services of Miss Marple,
Hercule Poirot and Colombo in a desperate attempt to identify who it was that killed dead the plan to move to the Olympic Stadium. Who was the anonymous complainant who pointed out that the loan from Newham Council represented "state aid" ?
Was it the author of The Games Gone Crazy, a sworn opponent of the move to the OS from the off? On January 21, this site carried the following:
"What a disgrace. Newham Council have approved a £40 million loan to West Ham United to support the bid for the Olympic Stadium, supposedly to protect local jobs. O yes? So why would Tottenham moving to the stadium threaten local jobs exactly? Won't they need stewards, burger sales vans and the like? In fact, won't MORE jobs be created by knocking down the original stadium and building a new one?
With local services being cut left, right and centre, is this really an appropriate use of public funds? Sorry, we have had to close the local library, the local swimming pool and the local relief care facility for disabled children, because we have loaned £40 million to West Ham United football club. Crazy. "
So, it seems, that even if not the mystery assassin, Hammersfan may have loaded the ammunition and pointed the gun.
But who then pulled the trigger? Avram perhaps, wreaking his revenge? Or Levy? Or Zola? Or Curbishley? Or Duxbury? Or what about Tony Fernandes? You make enemies and there is a price it seems.
To be fair, the deal isn't completely dead yet, we can still become council tenants, living under permanent Tory threat of eviction if we can't control the unruly elements in our extended family no doubt. One thing's for sure, the running track is now going nowhere and expensive remodelling of the stadium aint going to happen if we don't own the lease. Still fans can always pay to get into the stadium and then watch the entire game on big screens, just like they would free of charge in the pub!
Gullible fools who believed the Fools Gold dream will be distraught this morning. But you know, I bet Bobby Moore, John Lyall and Ron Greenwood are smiling. Their West Ham may yet survive!