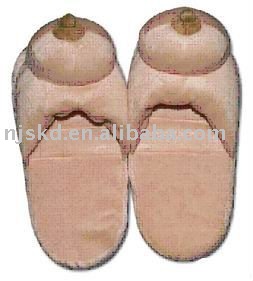 Poor Neil Warnock is furious that QPR's battle to survive in the Prem will be undermined by the metatarsal injury to key striker D J Campbell. According to Warnock, it is all down to the "carpet slippers" that the modern day footballers wear. It had long been thought that Warnock was giving tactical instructions as he yelled "Leather it!" from the touchline, but now it appears he was simply referring to his player's footwear.
Of course, Campbell's injury may be down to the physical style that Warnock encourages, even on the training field. He has boasted about how he likes his own players to scrap with each other and in Barton and Taarabt has two players who will, at some point, no doubt oblige. To date, it hasn't come to light who else was involved in the "accident" that Campbell suffered in training but prime suspects Joey and Adel apart, a certain Shaun Wright-Phillips has a history of clattering his own team mates - as Dean Ashton can testify!
It is rotten luck for QPR. Just as they get Mackie fit, so they lose Campbell. And all this on top of the surprise injuries to Dyer and Gabbidon. Poor Neil Warnock must be feeling cursed at the moment. The season started so well with those victories at Everton and Wolves, and now cruel fate appears to have it in for the lovable ex Sheffield United boss. Much more of this and Warnock's boys will start looking at the bottom of the table rather than the top, which would be bitterly disappointing given the massive financial injection of Tony Fernandes and plans to move the Rs to a new super stadium.
Fate is so fickle. Warnock, one of football's good guys, does not deserve this and all neutrals will be praying for a rapid turn around in fortunes. The idea that Warnock may suffer relegation at QPR just as he suffered relegation at Sheffield United, is too awful to contemplate. I, for one, will be saying a prayer for Warnock and his charges before I go to bed tonight. Who knows, with Fernandes' untold millions, Neil may land Tevez in January to trigger a highly improbable Great Escape.