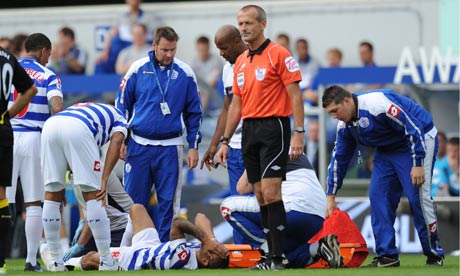 Dear Rs,
You cannot begin to imagine my disappointment at being ruled out until Christmas (at least) by a new injury. After four years of constant injury problems due to the inept medical team at West Ham, I was looking forward to a fresh start at QPR and to unleashing my brilliant talents upon the Premiership stage in the famous hoops of your wonderful club.
Sadly, it seems, your medical team is not yet up to Premiership standards. On the field, QPR is now a force to be reckoned with in the Prem - if we ignore the Fulham result - but behind the scenes, the club is still very much Championship in quality. The treatment room is sadly lacking in home comforts, even when compared with West Ham's, and the medical team are, to be frank, a bunch of quacks.
As a result, I have suffered another injury through no fault of my own. I would like to make clear at this stage that I am NOT injury prone. Any suggestion to that effect, based on my record of just 30 appearances stretched over 4 years, is very wide of the mark. I am the victim of misdiagnosis and medical malpractice. Even the Ipswich medical team cocked up when I went out on loan to my hometown club towards the end of last season - but then they drove into work on tractors and combine harvesters so what can you expect?
Of course I am frustrated about my latest injury and am choked that I will be drawing a salary for doing precisely nothing until Christmas at least - just like I did at West Ham - but I remain proud of my performance in the opening three minutes of the season and feel confident that you will acknowledge the role I played in securing that opening game victory at Everton. I promise you more of the same sometime after Christmas. Indeed I am targeting six minutes game time in January, nine in February, twelve in March and may go all out to make a quarter of an hour in the month of April - although not necessarily all in the same game as that may be inviting disaster.
As I won't be seeing you before Christmas, I would like to extend my best wishes for the festive season. I know times are hard and so you may not be able to buy your kids all that they are hoping for, but I will be thinking of you all on Christmas Day as I rest up my injury in my huge mansion. In fact, I may treat myself to a new Porsche with my December salary.
Take care. I'm off to break a leg - on the turkey I mean!
Kieron