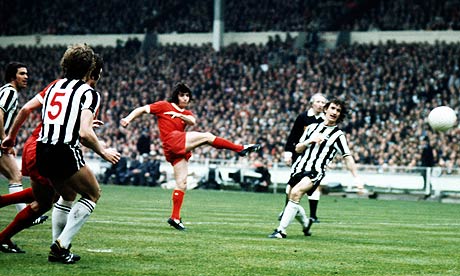 It's frightening but I've only just realised that it is the FA Cup Final on Saturday. What a joke! Why the Hell is the Premiership season extending beyond what used to be the showpiece of English football? Has the greatest domestic cup competition in the world been relegated behind the play off finals in terms of importance? If so, that is a total disgrace.
Liverpool v Chelsea - we should all be holding our breath in anticipation. North v South. The Reds v The Blues. The Gnarled Old Scot v The Dapper Young Italian. The Uruguayan Racist v The East London Racist. Carroll and Suarez v Torres.
It has all the ingrediants of a classic. Back in the Seventies nobody would have been talking about anything else all week. But absurdly, what should be the climax to the season has been squeezed in between Man City v Man Utd and Newcastle v Man City. It is a side show bordering on an irrelevance. Sure Dalglish might win another piss pot but who cares? Chelsea have much bigger fish to fry - with finishing fourth in the Prem more important than winning a trophy that used to mean everything, never mind the little matter of the Champions League final itself.
Poor Liverpool. Ferguson relegated them behind Man City this week and if they win the FA Cup, football fans up and down the land will barely notice. It's wrong, so wrong, that such a noble competition has been reduced to this!