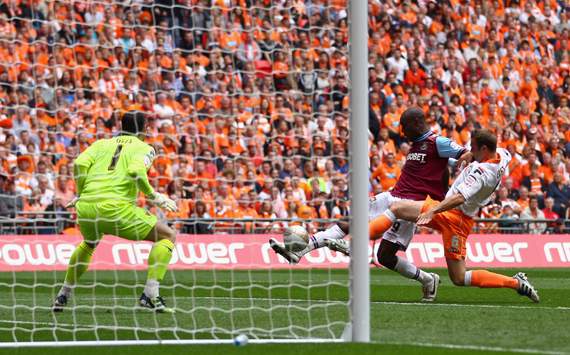 That's what The Sun is claiming, albeit I don't think Cole mentions that figure at all - although he does say he took a 50% pay cut to stay at the club following relegation.
The intriguing thing is that this suggests Cole was earning just £28,000 a week, or a misery £1,456,000 a year when in the Prem. That doesn't tally with the £40,000 per week that the spreadsheet that was leaked suggested. Of course, the club claimed that the figures on that sheet were bogus, but Upson's and Parker's salaries were confirmed, suggesting that if the figures were made up, somebody was guessing well.
The Sun rightly commends Cole's loyalty, contrasting him with Judas Defoe, but Defoe might respond that, unlike Carlton, he is on the plane to the Euros - and heading for another season in the Europa League too!
Who knows what the true figures are? The point is, Cole stayed and he played in crucial role on Saturday, scoring and assisting both the West Ham and Blackpool goals. He still gets unfair stick from the "fans", many of whom can't get over the fact that he is black I suspect, but he just gets on with the job regardless and genuinely seems to hold the club dear to his heart.
The trouble is, that generous big hearted honesty is the reason why he has failed to fulfil his true potential. If he could become a mean selfish bastard over the summer, given the dearth of English strikers, he might yet have an international future; but we all know he won't. The guy is just too damn nice!